Serving the Miami Valley Since 1946
Leonard J. Buecker opened Buecker's Interiors in March, 1946, at 128 W. Ash Street in Piqua, Ohio. He had worked, starting in high school, at Benkert's Department Store on the third floor where he managed the furniture and flooring departments until they closed. It was at that time that he started his own business based on the tradition of "fine" furniture, and custom-made draperies.
The business occupied the first floor of the four-story building with the drapery department on the third floor. Mr. Buecker employed a full-time carpet installer, Rufus Harmony, and a full-time drapery department with employees Stella Libby and later Pearl Krampe. A full-time salesperson, Kyle Haynes, assisted with sales and installations while Chuck Brubaker helped with carpentry, flooring, and installations. Leonard's wife Margaret was a valuable member of the store team, attending semi-annual furniture markets and adding her personal touch.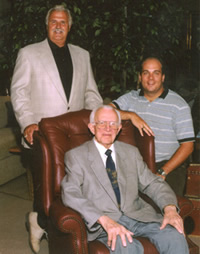 In February 1962, a devastating fire leveled the building. Mr. Buecker did not hesitate to rebuild his business on the same site, as his oldest son, Richard J. Buecker, was attending the Kendall School of Design in Grand Rapids, Michigan, with the intention of joining his father in the family business. In 1965, Richard became certified by the American Society of Interior Design (ASID) and added a design element to the business. Over the next 35 years, he developed a reputation as a very personable, knowledgeable, and creative designer.
The third generation was added to the family business when Eric J. Buecker, Richard's oldest son, joined them. Eric studied interior design at the University of Dayton and Sinclair Community College. He became a full-time employee in 1992, after realizing that he was able to learn much more about furniture and interior design by working side-by-side with his father and grandfather.
Continuing as a Third Generation Family Owned and Operated Business, Buecker's Interiors has served Piqua and the surrounding communities for over 64 years with fine furniture, interior design, flooring, window treatments, accessories, and area rugs. After 70+ years of working with the highest quality furniture manufacturers, The tradition of Bueckers "Fine" furnishings continues today.